Spotlight the teacher - Interview - Purlwise
In 2023 we are running a very special campaign spotlighting one of our amazing teachers each month. This means that we will be sharing information about their business, finding out what makes them unique, and interviewing them to find out more about them and what services and products they offer. We are so proud of our teachers and really want to show them off whilst giving them the opportunity to promote their businesses. In April we are spotlighting the lovely Jacqui from Purlwise who tells us all in the interview below, read on to find out more. Also stay tuned for a blog post from Jacqui coming soon!
Hi Jacqui! Can you tell us a little about yourself, your family and where you live?
I live in Brampton (the one near Cambridge not Cumbria 🤣) with my husband and Madam Margaux, our dog. She's not really called Madam but definitely has ideas above her station. I have a grown son who lives just a few minutes away.
What inspired you to start a knitting business? What inspires you to keep going?
I'd been working in project management for many years and decided it was time for a change. I've always enjoyed knitting and crochet so I decided to open a wool shop. That made me realise how "connected" the woolly world is. Connections to past traditions, connections to others enjoying their crafts and so on and it made me want to keep passing on those traditions.

I have really enjoyed reading your blog on the Purlwise website - it shows so much enthusiasm for knitting and crafts and for learning something new! You are very talented! What do you love to knit the most?
Thank you! My favourite stitch is definitely brioche… it has such a lovely rhythm when you knit it and the resulting fabric is just so squishy. My favourite items to knit are definitely socks! Saturday Sock Club was such a favourite for me.

I noticed that you also hand dye yarn-what led you to starting to doing this?
I went to a group to learn to spin and in that group we also learned about dyeing. Oh my word, the COLOURS! I love playing with the different colours and interpreting the colours I see around me into a skein of wool. It's hugely satisfying.

Can you tell us briefly about the hand dying process? And do you have any pictures of the process?
It's much like any design process, you start with the inspiration, decide how you're going to interpret that, then prepare your wool and dye, then wash, dry, tidy the skein and you're done.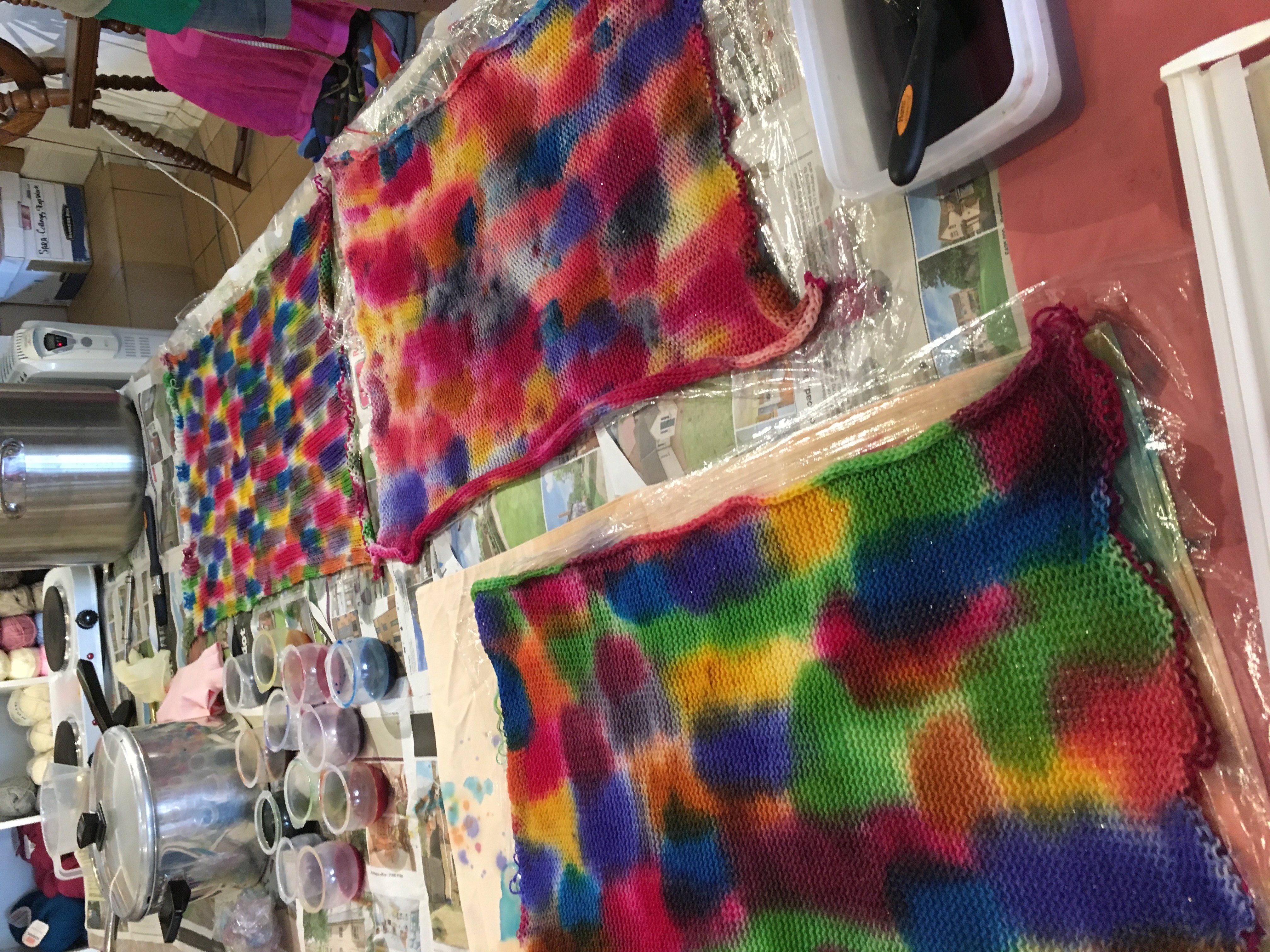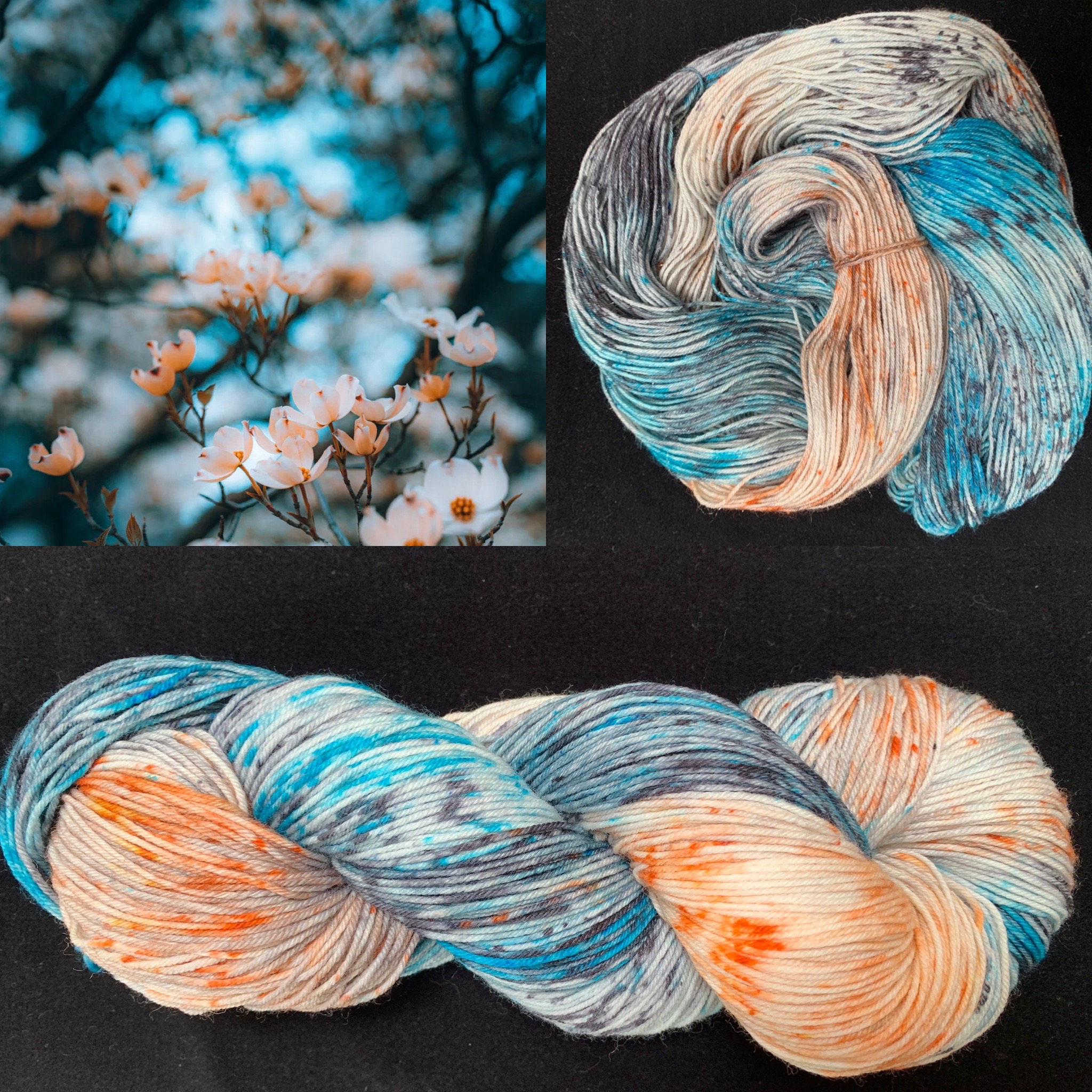 There are lots of subtly different ways to dye depending on the outcome you want but essentially we have to add a layer to the wool known as a mordant that can then attach the pigments in the dye to the wool. In natural dyes we use things like alum or tin to mordant the wool and then add it to the dye bath. With acid dyes the mordant is already included and we just need the water to be acidic (vinegar or citric acid are commonly used) to activate the process.
Can you give us a bit of background about when you started teaching knitting and how teaching knitting came about for you?
I started teaching in the shop, I didn't know much about how to structure classes and it was all very ad hoc and occasionally very funny. Unfortunately I had to close the shop during the pandemic. I decided that I wanted Purlwise to continue and felt there was a definite need to carry on the teaching and knitting social events. So here we are!
What age groups do you teach and do you teach anything besides knitting?
I mainly teach adults, I have run a few individual and group lessons for children and at some point I would definitely like to do more but for now I'm keeping busy enough. I teach a few things: knitting, crochet, dyeing, spinning and weaving. The last two are usually one to one because of the equipment involved but perhaps that'll change in the future.
What do you love about being a knitting/craft teacher?
Oh gosh, so many things. I love the process of thinking about what I'm going to teach and the best way to deliver that, I love meeting new people who often become regular customers and then friends and I LOVE the lightbulb moments and the smiles on faces when someone finishes something they can actually use or wear. Amazing!

What do you enjoy about being part of the Knitting For All membership?
I think it's that connection thing again, being able to chat and get help for problems with people who are in the same boat as me. It's also kind of nice to be on the "other side" for our Knit Nights and have someone else do the organising.
How do you think being part of the Knitting For All membership helps you with your business?
So many ways! It's given me methods to plan classes and tons of materials to support classes. It's also provided tons of inspiration - I often come out of our meetings with a list of ideas for classes and new things for me to try.
What are your future plans for Purlwise?
I don't plan too many years into the future as I love the flexibility of being self employed but I would definitely like to think about some bigger events such as summer schools or knitting retreats so we could really get our teeth into some bigger projects. I am also very interested in the design process, I often write patterns for classes and would love to improve on that.

You can find out more about Purlwise on her Facebook page, Knitting For All teacher page and on her own website.